Worship
In-Person Worship Service begins May 9!
We look forward to being together again!
Pre-registration is required.
8:00 a.m. – Holy Eucharist Rite One
10:00 a.m. Holy Eucharist Rite Two
******
This Week's Virtual Services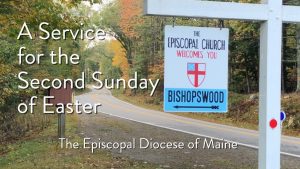 Diocese-Wide Sunday Service
Sunday, May 9, 2021
Sixth Sunday of Easter
We are delighted to share with you an online worship service for the Second Sunday of Easter, with participation from across the diocese.
The full service will be made available to the public on Sunday morning:
On the diocesan YouTube channel at 7:30 a.m.
On the diocesan Facebook page at 10 a.m
Download the Worship Bulletin
******
Weekday Services
Monday through Friday
Noonday Prayer – Facebook Live
Click here for An Order of Service for Noonday (taken from the BCP)

Wednesday and Saturday — 8:00 p.m.
Compline – Facebook Live
Click here for An Order for Compline (taken from the BCP)
******