Parish Staff
The Reverend Canon Lisa Fry, Rector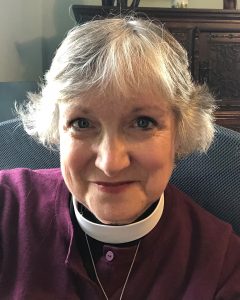 Lisa Fry loves preaching, teaching, pastoral care, and congregational development. A native Mainer (Topsham), she came to St. Thomas' after working in the church in Sarasota FL; Phoenix, AZ; and Little Rock, AR. She is glad to finally be home.
After reveling in her work with youth in various diocese across the country, Lisa answered a call to holy orders and was ordained an Episcopal priest in 2011. She currently serves on the Commission on Ministry for the Diocese of Maine, and is an advocate for the poor and marginalized both within Maine and nationally. She loves teaching and has taught everything from a course on Celtic Spirituality to The Lord's Prayer in Aramaic to the Enneagram. She loves nothing better than a rousing discussion with lots of opinions.
Lisa earned her BA from Colby College and her masters at Virginia Theological Seminary. In her 'salad days,'  Lisa worked as an actor on stage, in film, and doing voiceover work.  She has a married daughter, Zoe, who is working on her Ph.D. at Arizona State. Lisa enjoys antiquing, hiking and is a card-carrying Trekker and Whovian.
The Rev. Dr. Rosalee Glass, Deacon Emeritus
Picture and Bio coming soon!
Clarissa Brown, Minister of Music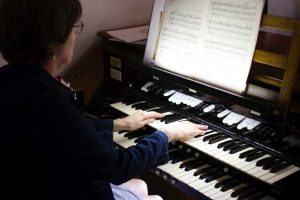 A Maine native, Clarissa Brown has been a music director and performer in area churches for many years. An educator as well as a musician, she is a docent for Friends of the Kotzschmar Organ and has participated in the Organ Festivals held at Merrill Auditorium. She received her Master's in Organ Performance at Boston Conservatory in 2008, and also holds the CAGO and AAGO degrees from the American Guild of Organists.
Tony Coyne, Sexton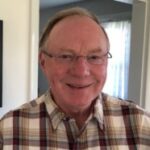 I am very pleased to be working for St. Thomas and the Rev. Lisa Fry. I moved to the mid coast in 2009 from Vermont. I live in Rockland with my wife Pat. I am retired from work as a Residential Energy Auditor and also industrial glasswork. So happy to be a part of the St. Thomas team.