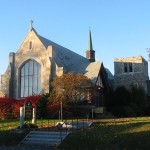 Come worship, celebrate, and share with us. We welcome you—families, couples, singles—to our community of faith. Our life in the spirit is one in which we all seek to discern God's will for us and for others. It is in the power of a group that "when two or more are gathered together in my name," the holiness of the Lord may be felt. We invite you to share that power with us. Whether you are in school, at college, working, or retired, familiar with the Episcopal church or not, we open our doors to you, as we celebrate the Eucharist and share our services and common life together.  Find out more about St. Thomas'
---
Let there be kindness in your face, in your eyes, in your smile, in the warmth of your greeting … Don't only give your care, but give your heart as well.     ~ Mother Teresa
---
Morning Prayer during Lent
Monday – Friday
February 27 through April 3
8:15 a.m. in the Chapel
We invite you to consider starting the weekday not in a rush, but with silence, prayer, and a time to reflect. The busy world slows, the day ahead comes into focus, and there is time to breathe.  This simple service of Bible readings, prayers and silence lasts about 30 minutes, allowing time to get to work afterward in a more peaceful frame of mind. 
---
Noon Music in Lent
Our Noon Music in Lent program takes place each Friday throughout Lent.  Come and hear a diverse group of people perform a half-hour of music, then enjoy fellowship and a lunch of soup and bread in the Parish Hall.  The free-will offering benefits New Hope for Women.  For more information and the full schedule, please check out our Noon Music in Lent page.
Please join us on March 6 in the Parish Hall 
Camden Hills Regional High School Jazz Band
---
Want to know what is going on at St. Thomas'?
Please check out this week's Tidings newsletter.
---
E-Mail Spam Information
If you receive an email requesting help or the purchase of gift cards that appears to be from someone at St. Thomas', please disregard and delete the email. There has been a rash of these type of emails being received by our parishioners. Please be assured that St. Thomas' will not send requests for help or gift cards to our members by email.
---
We offer several opportunities for worship:
Sundays
7:30 am: Holy Eucharist, Rite I
Coffee Hour follows on first Sunday of the month
10:00 am: Holy Eucharist with choir, Rite II and Enriching our Worship
Child care available
Coffee Hour follows
5:15 pm: Centering Prayer
Wednesdays
9:30 am: Holy Eucharist and Healing Service
Coffee Hour and Bible Study follow
Experience a panoramic view of our church
Experience a panoramic view of our chapel
St. Thomas' Episcopal Church
33 Chestnut Street
PO Box 631
Camden, Maine 04843
(207) 236-3680
admin@stthomascamdenme.org
Parish Office Hours:  Monday through Friday – 9 am to Noon