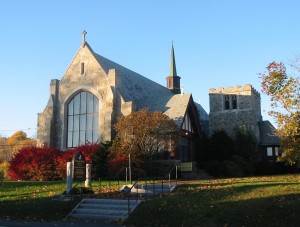 We are  followers of Jesus who:
Worship in beauty
Question in faith
Serve in love
Find out more about St. Thomas'
---
This Week's Virtual Services 
Sunday, May 31st, Feast of Pentecost
Diocese-wide online Pentecost Service
YouTube Link (watch any time)


Facebook Link

 (premiers at 10 a.m. on Sunday)


Click here

 to download the order of service
Click here for just the sermon on YouTube.

Monday - Friday - Noonday Prayer - Facebook Live
Click here for An Order of Service for Noonday (taken from the BCP) 

Wednesday, 8:00 p.m. - Compline - 

Facebook

 Live
Saturday, 8:00 p.m. - Compline - 

Facebook

 Live
Click 

here

 for An Order for Compline (taken from the BCP)

Book of Common Prayer
---
Reopening of Church
Click here for letter from Lisa+ regarding reopening of Church
 St. Thomas' Church Reopening Poll 
Mail-in Copy of  Reopening Poll 
---
  Presiding Bishop Curry has asked that we pray the below prayer from Pentecost through September 1.
A Prayer for the Power of the Spirit Among the People of God

God of all power and love,
we give thanks for your unfailing presence
and the hope you provide in times of uncertainty and loss
Send your Holy Spirit to enkindle in us your holy fire.
Revive us to live as Christ's body in the world;
a people who pray, worship, learn,
break bread, share life, heal neighbors,
bear good news, seek justice, rest and grow in the Spirit.
Wherever and however we gather,
unite us in common prayer and send us in common mission,
that we and the whole creation might be restored and renewed,
through Jesus Christ our Lord. Amen


---
Download the National Church Prayers for a Pandemic
Download the POP for a Time of Coronavirus – May 21st 
---
Click here for this week's Tidings Newsletter
---
Presiding Bishop Curry's Meditation – May 25 – Habits of Grace
Presiding Bishop Curry's A Word to the Church:  What Would Love Do?
---
Click here for information on supporting St. Thomas during the COVID-19 Pandemic
---
This page has many resources for our parishioners – Worship, St. Thomas' YouTube Channel, Rev. Lisa's letters, etc.  We will continue to update on a regular basis.
---
St. Thomas' Facebook Page
---
All Services and events at St. Thomas' are suspended due to the concerns of COVID-19.  The Parish Office is closed.
 Voicemail is only retrieved on Monday mornings.
Please contact Susie by email – admin@stthomascamdenme.org
Please check back regularly for updates. 
---
During this Pandemic, we offer these opportunities for learning & worship:
Sundays
Morning Prayer – 10 a.m. on Facebook Live

Weekdays:
Monday – Friday
Noonday Prayer on Facebook Live
(Tuesday/Thursday with guided meditation)
Wednesdays:
Bible Study:  10:30 a.m. – Zoom
EfM:  4:30 p.m. – Zoom
Compline:  8 p.m. on Facebook Live
Fridays:
Rector's Class:  4:00 p.m. – Zoom
Learning to Walk in the Dark
Saturdays:
Sunday School – 11:00 a.m. – Zoom
Compline – 8 p.m. on Facebook Live
Please email admin@stthomascamdenme.org if you need Zoom information/invite
Please check our Calendar for information on our week's activities.
---
Experience a panoramic view of our church
Experience a panoramic view of our chapel
St. Thomas' Episcopal Church
  33 Chestnut Street
  PO Box 631
  Camden, Maine 04843
Parish Office: 207-236-3680 (messages
retrieved on Monday morning only)
Susie is working from home and will not be able to take calls to the church for assistance. She can receive email messages - admin@stthomascamdenme.org 

Website questions/suggestions can be sent to:  communications@stthomascamdenme.org

Please stay safe and be well.