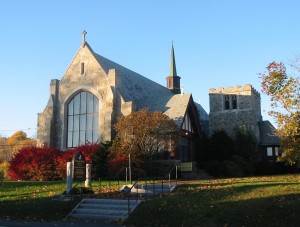 Come worship, celebrate, and share with us. We welcome you—families, couples, singles—to our community of faith. Our life in the spirit is one in which we all seek to discern God's will for us and for others. It is in the power of a group that "when two or more are gathered together in my name," the holiness of the Lord may be felt. We invite you to share that power with us. Whether you are in school, at college, working, or retired, familiar with the Episcopal church or not, we open our doors to you, as we celebrate the Eucharist and share our services and common life together. Find out more about St. Thomas'.
---
Prayer for the Consecration of
The Rt. Rev. Thomas Brown, 10th Bishop of Maine
We give you thanks, O God, that you have called us to a goodly fellowship of faith in the Diocese of Maine. In the power of the Spirit, you have guided us in the election of the Tenth Bishop. We ask your blessings on all our people, especially on Bishop Stephen T. Lane, Bishop Thomas Brown and their households that each may move safely into their new callings and that, together, we may work to strengthen and share your Mission among us. We pray this in Christ's name. Amen.
---
 God's Abundance…Our Response
What will be your response to the abundance God has provided to you?
---
We offer several opportunities for worship:
Sundays
7:30 am: Holy Eucharist, Rite I
Coffee Hour follows on first Sunday of the month
10:00 am: Holy Eucharist with choir, Rite II and Enriching our Worship
Child care available
Coffee Hour follows
5:15 pm: Centering Prayer
Wednesdays
9:30 am: Holy Eucharist and Healing Service
Coffee Hour and Bible Study follow
Experience a panoramic view of our church
Experience a panoramic view of our chapel
St. Thomas' Episcopal Church
33 Chestnut Street
PO Box 631
Camden, Maine 04843
(207) 236-3680
admin@stthomascamdenme.org
Parish Office Hours:  Monday through Friday – 9 am to Noon