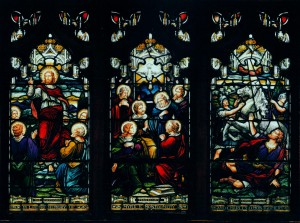 Come worship, celebrate, and share with us. We welcome you—families, couples, singles—to our community of faith. Our life in the spirit is one in which we all seek to discern God's will for us and for others. It is in the power of a group that "when two or more are gathered together in my name," the holiness of the Lord may be felt. We invite you to share that power with us. Whether you are in school, at college, working, or retired, familiar with the Episcopal church or not, we open our doors to you, as we celebrate the Eucharist and share our services and common life together.
St. Thomas' is a warm and friendly Episcopal Church in Camden, Maine. We offer many opportunities to worship during the week. We consider ourselves a broad church—and we love a good liturgy. Rite I begins our Sunday worship at 7:30am. This is quiet contemplative service. We sing a bit, at the beginning and the end, but this is a service with old language, old traditions, and lots of quiet time to pray. The 10:00am service uses Rite II and Enriching our Worship, has a full choir, and nursery and Sunday School during the school year. Sunday evening there's Centering Prayer in the chapel from 5:15pm until 5:45pm. If you enjoy silence—this one's for you. Beautiful Taizé services with icons and candles, chanting and silence are also offered periodically.
Wednesdays at 9:30am we offer Eucharist with Healing, followed by cookies and coffee and an informal and welcoming bible study for those who are interested, led by Brother Donovan.
In the future, we hope to add a Eucharist in the evening during the workweek for those who can't come on Sundays, and specifically inviting the marginalized in our community who might have memories of a lack of welcome at a church they once attended. The Episcopal Church welcomes you.
We've had quite a history! St. Thomas' Parish began on October 1, 1855. For the next fifteen years the parish worshiped in the former Universalist meeting house on Mountain Street. After 1884, it really took off in numbers and commitment. In 1924 St. Thomas' moved to its current building, with the tower and the chapel being added in 1930.
A new organ installed in 1992 and the enthusiasm of the parish led to the construction of a new educational wing in 2007 and new opportunities for worship to parishioners and the community. During the summer months we joyfully welcome back many friends who join us for either a few weeks or a few months. Find out more about St. Thomas' History
Come and join us! We offer something for everyone. Questions? Please call our Rector, Lisa Fry at 236.3680 or write to her at rector@stthomascamdenme.org . She'll probably invite you to coffee!