Vestry
St. Thomas' Officers and Vestry Members: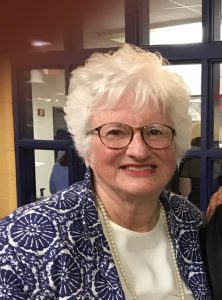 Senior Warden: Elizabeth Moran (2024)
Elizabeth Moran grew up in Camden and has been a parishioner of St. Thomas' since 1964. She and her husband, Andrew, were summer parishioners until 1987 when they moved from Fairfax County, Virginia, to Northport, Maine. In Virginia, they were married in St. Alban's Church in Washington, where Elizabeth taught church school. After moving to northern Virginia, they were members of Truro Episcopal Church in Fairfax, where Elizabeth was Directress of Altar Guild, and their daughters, Heather and Melissa, were acolytes.
After moving to Maine, Elizabeth and Andrew and their family have been active in St. Thomas'. Elizabeth has served on Altar Guild, the Archives Committee, the Memorial Gifts Committee, the Building Committee for the new Church School Wing, the Finance and Endowment Committees, the Personnel Committee, and the Grounds Committee. She has served as Senior Warden, Junior Warden, Treasurer, and on Vestry including Clerk of the Vestry. As "unofficial" church archivist, she compiled a History of the St. Thomas Needlepoint Kneelers.
Elizabeth has been active in the community as Director of the Camden Public Library for 20 years and as a volunteer on various community projects.
As an Episcopalian, Elizabeth respects the rich history of the church and its Anglican heritage as the foundation for the traditional liturgy and worship of today's church while also adapting to the changes needed in the contemporary church to keep it vibrant and growing.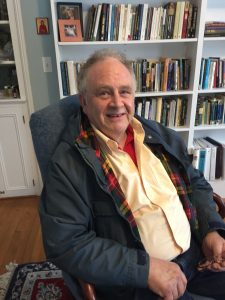 Junior Warden: Edmund Hartt (2023)
Edmund Hartt grew up in Wilabraham, a town near Springfield, MA. His family were members of the Church of the Epiphany, where his father served as a member of the vestry and Edmund served as acolyte through his college years. He graduated from Kenyon College with a BA in drama.
Edmund moved to Maine in 1979 to work as a camp counselor at Camp Chewonki in Wiscasset.  In 1983 he moved to this area to work on wooden boats. He has lived in Lincolnville, Islesboro, Searsmont, and Camden. In 1991 he bought and rebuilt a house in Lincolnville.
He makes his living as a boat builder, carpenter, and cabinet maker. He has served on the Lincolnville School Committee, the CSD Board and the Region 8 School Board.
Interim Treasurer:  Terry Mello
Picture and Bio coming soon!
Vestry Members: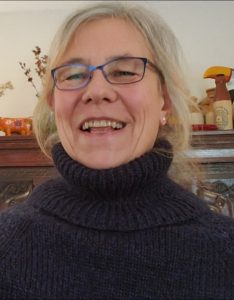 Sarah Groman (2023)
Sarah grew up in England and studied medicine in London. She and her husband Phil met in Nepal and married in 1984. Work took them to Africa and South America for 25 years and they moved to Maine in December 2010. They eventually bought an old farmhouse in Union and have been regular members of St. Thomas' Church since 2013. They have two adult children, Christopher and Anna who both live in Maine.

Sarah has been on the vestry before, from 2018-2021, is currently on the COVID taskforce, is a lector both for in-person and on-line services, including diocese-wide services, leads Noonday Prayer on Mondays and loves to arrange church flowers. Throughout the pandemic the Rector's class and Wayfinders on Zoom have provided vital fellowship and connection.
Sarah has always loved flowers, the outdoors, walking and travelling. Her current passions include gardening and discovering, appreciating and creating beauty. When she is forced indoors she has time to reclaim "lost" creative skills with the overall intention of using them to create beautiful spaces, inside and out. 

Dean Jackson (2023)
Dean graduated from Iona College with a Bachelor of Arts degree. After graduating, he became a customer service representative for Grolier International Corporation in New  York.  Marrying wife Kate, in 1979, Dean held corporate food service managerial positions at Brocks, Hartford Insurance, and Macy's:  all in Connecticut.  For 5 years, Dean was the Food Service Director for Shoreline Estuary Council, and Meals on Wheels.
Moving to Maine in 1987, Dean has worked as a public health inspector for the State of Maine, inspecting restaurants, school, food trucks ( even those at Common Ground Fair), and hospitals throughout the state. Recently Dean was awarded his 30 years pin for his service.
Dean is quite interested in genealogy and is Deputy Governor General for Society of Colonial Wars (Maine), and is also past Lt. Governor of Founders and Patriots (Maine). Being a 20-year member of St Thomas' Church, Dean has helped in many ways: as Master of Ceremonies, Usher, Lay Eucharistic Minister, Lector, and also as chef extraordinaire during various events! He looks forward to serving the St. Thomas' community.
Benjy Lowry (2024)
Picture and Bio coming soon.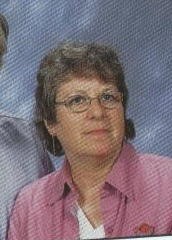 Jan Lyle (2024)
After a few Sunday visits to St. Thomas' I knew that I had found my new church home. I am a lifelong Episcopalian having been baptized and confirmed at St. John's in Ketchikan, Alaska. Since coming to St. Thomas' I have been involved as a 7:30 Lecturer and Usher. In the past I was actively working in the "rummage room" and organizing rummage sales and the Fine Goods table for the fairs. I served on the Vestry for about six years filling a few incomplete terms. I have worked in Human Services for the past 20 years. My husband Sandy and I live in Lincolnville. We have three grown children and two grandchildren.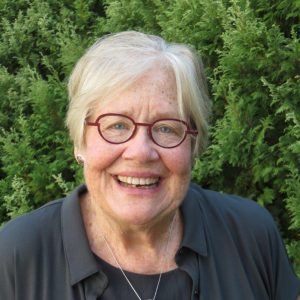 Eileen Morelli (2023)
Eileen Morelli has lived in Camden, Maine, for the past 4 years. She and her husband, Paul, have 3 children and 7 grandchildren. Her daughter Licia lives in Camden, and her two sons, PJ and Tom, live in Boston and Baltimore. Her grandchildren range in age from 7 years to 13 years old.
She has also lived in Ohio, Pennsylvania, Indiana, Colorado, and Birmingham, England.
She began her career in Education as a Second Grade Teacher in Hobart, Indiana, and retired as a Professor of Literature and Language Arts at Westminster College in New Wilmington, Pennsylvania. Eileen was also a Curriculum Supervisor for the Denver Public Schools and an Executive Assistant to the President of the Community College of Allegheny County in Pittsburgh, Pennsylvania. She is a certified Reading Specialist in Maine and four other states. Currently, she works with children who have reading difficulty.
Eileen has always been an active member of her church and feels that this participation enhances her life's purpose. In her service to the church, she has served as a teacher, member of the church council, and chair or co-chair of various fundraising activities.
She feels it is important to continue to learn about her own spirituality, reach out to others, and encourage younger people to participate in knowing God through their own religious education.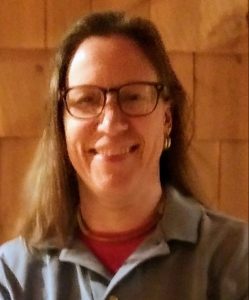 Kendra Watkins (2024)
Kendra Watkins moved to Midcoast Maine in 2002 and took the position of the first Assistant District Attorney to specialize in juvenile matters for Prosecutorial District 6. Soon thereafter she was appointed by the Governor to the Board of Visitors for the Mountain View Youth Development Center. She met her husband Jon Watkins in 2004 at Camden Harbor while he was serving as the First Mate of S/Y Sumurun. They married in 2007, and in 2008 Kendra left the DA's office to start a solo legal practice specializing in representing children in: juvenile defense, emancipation and as a Guardian ad litem. Jon and Kendra have four children, Luke, Charlotte, Wolfe and Violet, whom they homeschool. The family began attending St. Thomas' when they moved from Thomaston to Camden in 2016. In 2018, Jon began his own company as a for-hire boat captain and property manager for private rental properties in Camden.