Vestry
St. Thomas' Officers and Vestry Members: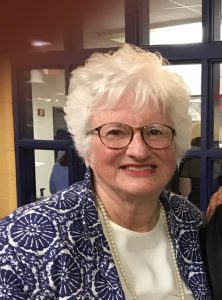 Senior Warden: Elizabeth Moran (2024)
Elizabeth Moran grew up in Camden and has been a parishioner of St. Thomas' since 1964. She and her husband, Andrew, were summer parishioners until 1987 when they moved from Fairfax County, Virginia, to Northport, Maine. In Virginia, they were married in St. Alban's Church in Washington, where Elizabeth taught church school. After moving to northern Virginia, they were members of Truro Episcopal Church in Fairfax, where Elizabeth was Directress of Altar Guild, and their daughters, Heather and Melissa, were acolytes.
After moving to Maine, Elizabeth and Andrew and their family have been active in St. Thomas'. Elizabeth has served on Altar Guild, the Archives Committee, the Memorial Gifts Committee, the Building Committee for the new Church School Wing, the Finance and Endowment Committees, the Personnel Committee, and the Grounds Committee. She has served as Senior Warden, Junior Warden, Treasurer, and on Vestry including Clerk of the Vestry. As "unofficial" church archivist, she compiled a History of the St. Thomas Needlepoint Kneelers.
Elizabeth has been active in the community as Director of the Camden Public Library for 20 years and as a volunteer on various community projects.
As an Episcopalian, Elizabeth respects the rich history of the church and its Anglican heritage as the foundation for the traditional liturgy and worship of today's church while also adapting to the changes needed in the contemporary church to keep it vibrant and growing.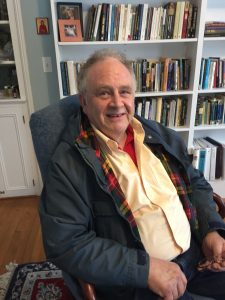 Junior Warden: Edmund Hartt (2023)
Edmund Hartt grew up in Wilabraham, a town near Springfield, MA. His family were members of the Church of the Epiphany, where his father served as a member of the vestry and Edmund served as acolyte through his college years. He graduated from Kenyon College with a BA in drama.
Edmund moved to Maine in 1979 to work as a camp counselor at Camp Chewonki in Wiscasset.  In 1983 he moved to this area to work on wooden boats. He has lived in Lincolnville, Islesboro, Searsmont, and Camden. In 1991 he bought and rebuilt a house in Lincolnville.
He makes his living as a boat builder, carpenter, and cabinet maker. He has served on the Lincolnville School Committee, the CSD Board and the Region 8 School Board.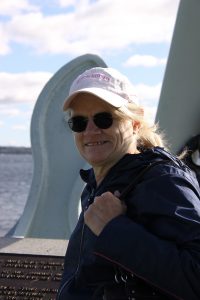 Treasurer: Terry Mello (2022) 
Terry was born and raised in Brooklyn, New York – the 9th of 11 children.  In 1984 she and Carlos were married.  Terry and Carlos spent 27 years in Weston, Connecticut, raising three sons:  Matt who lives in Geneva, Switzerland with his wife, Kat and daughter, Allie; Nick who lives in Bronxville, New York with his wife, Amelia; and Dan who lives in Broomfield, Colorado.
Terry and Carlos have been attending St. Thomas' since 2011 – officially becoming members in 2012.  She has been an active volunteer since 2014.  Terry served on the Vestry from 2014-2017, has been Treasurer since 2015 and is a Lector at the 7:30 Service.
Terry is a self-employed tax preparer and bookkeeper.  She enjoys her long walks with their two dogs, Rumor and Virgie.  Carlos and Terry are thankful that they found a home at St. Thomas'.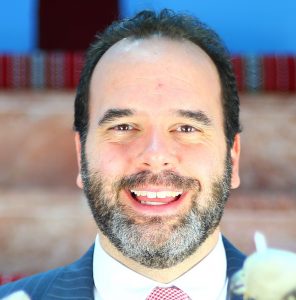 Troy Bickham (2024)
I first came to St. Thomas' with my family in summer 2012 as seasonal (summers and Christmases) residents, spending the rest of the year living and working in Qatar. Since 2017, we have been here more or less full-time. Our home is in Hope. My wife, Rachel, has been involved with Christian education, but most of you are likely to recognize our children—George, Hettie, and Bea—who are visible (both in church and, since COVID, on screen) as acolytes, lectors, reading the Prayers of the People, and in the Christmas Pageant. I am honored to be considered for St. Thomas' Vestry.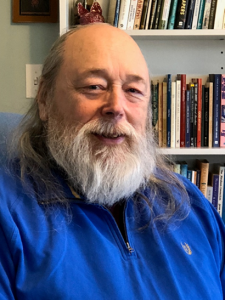 Brother Aidan Donovan Bowley, BSG (2022)
Donovan has been a member at St. Thomas for the past 12 years, since retiring back to Maine, where his father's family has been since the 1740s. Here at St. Thomas', he has been a choir member, Eucharistic Minister/Acolyte, Worship Leader, and Eucharistic Visitor, as well as serving on the Vestry and on the recent Search Committee for the Rector. He convenes the Wednesday Bible Study group, and after taking the Education for Ministry course led by Rosalee Glass, has assisted her in EfM for the past several years.
He is a life-professed member of the Brotherhood of St. Gregory. Its members are not monks living at one location together in community but are individual friars dispersed throughout the United States and in the Philippines, and Australia. He served several years as the Provincial of their New England Province. (The Brotherhood's website, www.gregorians.org, is a good source of information on the Community, should one be interested in learning more about them.)
After some 22 years at the Church of the Advent, he worked with St. John's Parish, Charlestown, Massachusetts; then joined the Parish of the Messiah in Auburndale, Massachusetts, serving there as Vestryman and Warden, coming to St. Thomas' Church from there.
He is a biologist and holds a Ph.D. in Biology from Boston University, where he taught on the faculty for the last three years of graduate school. He has been a forest ranger, a regional planner, an environmental analyst, and managed the Technical Services section of the Massachusetts Drinking Water Program, retiring to Maine in 2007.
His current interests include local Maine history, and he works with several local historical societies as well as the Walsh History Center at Camden Public Library.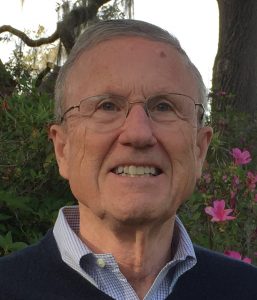 Bill Freeman (2022)
Bill Freeman came to Maine with his wife Susan in 1988 as a summer resident. In 2002 they moved from Lancaster Pennsylvania to Rockport permanently. Bill retired after 34 years as a Marketing Manager with Armstrong World Industries in the Flooring Division. For the last 20 years he has been working as a consultant for the Resilient Floor Covering Institute. He has been attending services at St Thomas for the past 32 years. In Lancaster Bill and Susan joined with 9 other couples to form the first new Episcopal church in 25 years, St Edwards, in the Diocese of Central Pennsylvania. Bill was a member of the St Edwards Vestry for 12 years, Chair of the Building Committee and Co-Leader of St Edwards Youth Fellowship. He currently serves on the St Thomas Outreach Committee, Board of the Camden Area Christian Food Pantry, scheduler for the 10AM service readers for the past 10 years and is an usher at St Thomas. Locally, Bill has been a member of the Rockport Budget Committee and currently is a member of the Rockport Town Investment Committee and the Rockport Board of Assessment Appeals. Bill is the immediate past President of Megunticook Golf Club in Rockport.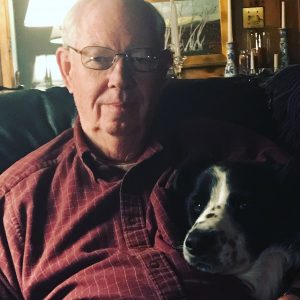 Roy Gilley (2024)
Roy grew up in Maine, and attended St. Thomas' for many years, but for the past 19 years he has worked in Connecticut supervising his own architecture office. He has designed stores, shopping centers, housing for elderly, schools, hospitals, private residences and other projects. Roy commuted back and forth to Camden for the past several years while his wife Jan held the fort. When he could, he joined us at St. Thomas' as a lector, crucifer, usher, reader and student of EfM. He is now retired, and is delighted to be asked to serve on the Vestry.

Dean Jackson (2023)
Dean graduated from Iona College with a Bachelor of Arts degree. After graduating, he became a customer service representative for Grolier International Corporation in New  York.  Marrying wife Kate, in 1979, Dean held corporate food service managerial positions at Brocks, Hartford Insurance, and Macy's:  all in Connecticut.  For 5 years, Dean was the Food Service Director for Shoreline Estuary Council, and Meals on Wheels.
Moving to Maine in 1987, Dean has worked as a public health inspector for the State of Maine, inspecting restaurants, school, food trucks ( even those at Common Ground Fair), and hospitals throughout the state. Recently Dean was awarded his 30 years pin for his service.
Dean is quite interested in genealogy and is Deputy Governor General for Society of Colonial Wars (Maine), and is also past Lt. Governor of Founders and Patriots (Maine). Being a 20-year member of St Thomas' Church, Dean has helped in many ways: as Master of Ceremonies, Usher, Lay Eucharistic Minister, Lector, and also as chef extraordinaire during various events! He looks forward to serving the St. Thomas' community.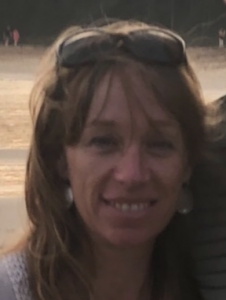 Jen Johanson (2023)
Jen lives with her husband, Erik, and their three daughters, Ella, Freya & Poppy, right here in the heart of Camden. Her family moved to Maine from Florida in 2016 and they have made it home.
Jen is a busy mum, but also works full-time as the  Executive Officer of the Mid-Coast Board of REALTORS. She also runs a  vacation rental business during the busy summer months.
Jen is from the UK, and her family lived overseas for many years when Erik was Active Duty in the USAF.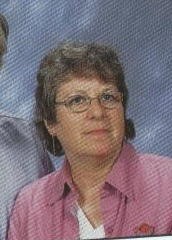 Jan Lyle (2024)
After a few Sunday visits to St. Thomas' I knew that I had found my new church home. I am a lifelong Episcopalian having been baptized and confirmed at St. John's in Ketchikan, Alaska. Since coming to St. Thomas' I have been involved as a 7:30 Lecturer and Usher. In the past I was actively working in the "rummage room" and organizing rummage sales and the Fine Goods table for the fairs. I served on the Vestry for about six years filling a few incomplete terms. I have worked in Human Services for the past 20 years. My husband Sandy and I live in Lincolnville. We have three grown children and two grandchildren.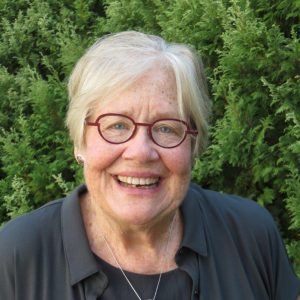 Eileen Morelli (2023)
Eileen Morelli has lived in Camden, Maine, for the past 4 years. She and her husband, Paul, have 3 children and 7 grandchildren. Her daughter Licia lives in Camden, and her two sons, PJ and Tom, live in Boston and Baltimore. Her grandchildren range in age from 7 years to 13 years old.
She has also lived in Ohio, Pennsylvania, Indiana, Colorado, and Birmingham, England.
She began her career in Education as a Second Grade Teacher in Hobart, Indiana, and retired as a Professor of Literature and Language Arts at Westminster College in New Wilmington, Pennsylvania. Eileen was also a Curriculum Supervisor for the Denver Public Schools and an Executive Assistant to the President of the Community College of Allegheny County in Pittsburgh, Pennsylvania. She is a certified Reading Specialist in Maine and four other states. Currently, she works with children who have reading difficulty.
Eileen has always been an active member of her church and feels that this participation enhances her life's purpose. In her service to the church, she has served as a teacher, member of the church council, and chair or co-chair of various fundraising activities.
She feels it is important to continue to learn about her own spirituality, reach out to others, and encourage younger people to participate in knowing God through their own religious education.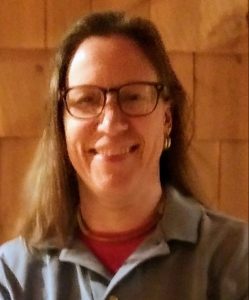 Kendra Watkins (2023)
Kendra Watkins moved to Midcoast Maine in 2002 and took the position of the first Assistant District Attorney to specialize in juvenile matters for Prosecutorial District 6. Soon thereafter she was appointed by the Governor to the Board of Visitors for the Mountain View Youth Development Center. She met her husband Jon Watkins in 2004 at Camden Harbor while he was serving as the First Mate of S/Y Sumurun. They married in 2007, and in 2008 Kendra left the DA's office to start a solo legal practice specializing in representing children in: juvenile defense, emancipation and as a Guardian ad litem. Jon and Kendra have four children, Luke, Charlotte, Wolfe and Violet, whom they homeschool. The family began attending St. Thomas' when they moved from Thomaston to Camden in 2016. In 2018, Jon began his own company as a for-hire boat captain and property manager for private rental properties in Camden.