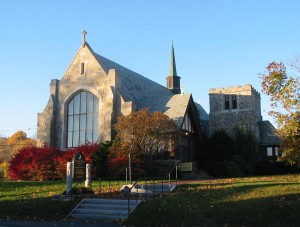 Come worship, celebrate, and share with us. Families, couples, or singles, we welcome you to our community of faith. Our life in the spirit is one in which we all seek to discern God's will for us and for others. It is in the power of a group that "when two or more are gathered together in my name", the holiness of the Lord may be felt. We invite you to share that power with us. Whether in school, at college, working, or retired, familiar with the Episcopal church or not, we open our doors to you, as we celebrate the Eucharist and share our services and common life together. Find out more about St. Thomas'.
---
Dance into Spring!
Zumba Dance Party Benefit
On Saturday evening, March 30th, 7:30—9:30, St. Thomas' will be hosting a Zumba Dance Party to benefit New Hope for Women, Knox County Homeless Coalition, and Habitat for Humanity.
Zumba is a highly charged, upbeat fusion of international dance styles. Among its many influences are Salsa, Flamenco, Middle Eastern, Hip-Hop, Jazz, African and Reggaeton.
At its core, Zumba is about Joy, Inclusivity and Energy. Everyone is made to feel welcome no matter their level of dance expertise or inexperience. The beats call forth exuberant movement; and although teaching is kept to a minimum, people are free to modify and improvise when following the instructors whip-smart movements prove beyond their physical capabilities in the moment.
We hope people who like to move to music will lose their "winter blues" and come out to support our Outreach beneficiaries. Let's show the greater community that the "chosen frozen" actually can keep a beat!
Please call Pam Bardon if you would like more information or are interested in helping at this event.
---
 NOON Music in Lent
with Noonday Prayer
Fridays at Noon
March 8 through April 12
March 22, Kathleen Christie, Voice
Luncheon follows in Parish Hall
Performers donate their time and talent.
Free-will donations will be sent to the Camden Area Food Pantry
Join us for this wonderful event!
Click here for additional information.
---
 God's Abundance…Our Response
What will be your response to the abundance God has provided to you?
---
We offer several opportunities for worship:
Sundays
7:30 am: Holy Eucharist, Rite I
Coffee Hour follows on first Sunday of the month
10:00 am: Holy Eucharist with choir, Rite II and Enriching our Worship
Child care available
Coffee Hour follows
5:15 pm: Centering Prayer
Wednesdays
9:30 am: Holy Eucharist and Healing Service
Coffee Hour and Bible Study follow
View a panoramic view of our church
View a panoramic view of our chapel
St. Thomas' Episcopal Church
33 Chestnut Street
PO Box 631
Camden, Maine 04843
(207) 236-3680
admin@stthomascamdenme.org