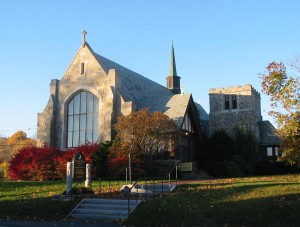 Come worship, celebrate, and share with us. Families, couples, or singles, we welcome you to our community of faith. Our life in the spirit is one in which we all seek to discern God's will for us and for others. It is in the power of a group that "when two or more are gathered together in my name", the holiness of the Lord may be felt. We invite you to share that power with us. Whether in school, at college, working, or retired, familiar with the Episcopal church or not, we open our doors to you, as we celebrate the Eucharist and share our services and common life together. Find out more about St. Thomas'

---
Family Friendly Eucharist Once a Month
The Christian Education committee has now met twice, and we are again looking at the possibility of hiring someone to coordinate K-12 Christian Education, and assist in teaching the 8-12 year olds. While it is not possible to change our budget for this year, we would like to see it in the budget for next year.
Karen Colburn will continue to offer Godly Play (beginning Sept 9) for children up to 7 years of age. The parents have offered to keep their older children in church for a couple of months, going over the bible lessons for the week at home, and encouraging them to participate fully.
For the next two months- and hopefully longer—St Thomas' will offer a family -friendly Eucharist on or near the 1st Sunday of the month which will: encourage the older kids to take on the ushering, lecturing, and acolyting during the 9:30 service, and will give me to opportunity to program a child friendly sermon which I think the adults will enjoy too. The first Family-Friendly Eucharist will be on September 9, (the Sunday after the Labor Day weekend) and the second one will be on October 7.
We are all very excited about where the Children's Ministry at St. Thomas' is heading and would welcome additional input and volunteers.
---
St. Thomas' Church now offers the ability to make payments to your pledge or donate to its operating fund electronically. Click the link below:
Donate to St. Thomas
---
Read recent sermons.
---
Chapter and Verse is our periodic newsletter, with longer, more in-depth articles.
---
We offer several opportunities for worship:
Sundays
7:30 am: Holy Eucharist, Rite I
Coffee Hour follows on first Sunday of the month
9:30 am: Holy Eucharist with choir, Rite II and Enriching our Worship
Child care available
Coffee Hour follows
5:15 pm: Centering Prayer
Wednesdays
9:30 am: Holy Eucharist and Healing Service
Coffee Hour and Bible Study follows
View a panoramic view of our church
View a panoramic view of our chapel
---
Our needlepoint kneelers are locally famous and are the subject of a book.
---
St. Thomas' Episcopal Church
33 Chestnut Street
PO Box 631
Camden, Maine 04843
(207) 236-3680
admin@stthomascamdenme.org