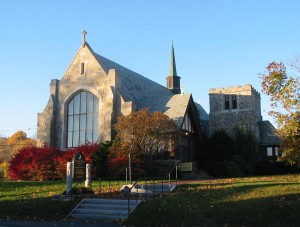 Come worship, celebrate, and share with us. Families, couples, or singles, we welcome you to our community of faith. Our life in the spirit is one in which we all seek to discern God's will for us and for others. It is in the power of a group that "when two or more are gathered together in my name", the holiness of the Lord may be felt. We invite you to share that power with us. Whether in school, at college, working, or retired, familiar with the Episcopal church or not, we open our doors to you, as we celebrate the Eucharist and share our services and common life together. Find out more about St. Thomas'

---
Farewell to Summer Gala
Our Farewell to Summer celebration takes place Thursday, September 1 at 6:00 pm. Our evening will be a social one with hors d'oeuvres, wine and non-alcoholic beverages, music, drawings for three exceptional prizes and a silent auction of interesting items on which to bid during our evening together. Bidding opportunities will range across the price spectrum, giving everyone an opportunity to participate.
The grand prizes are a week's stay in an Arizona vacation home; a five-day stay at a Naples, Florida resort; and two nights in Camden's new 16 Bay View luxury hotel. Drawing for these prizes will be held during the evening. You may purchase tickets from Bill Freeman, Edwin Williamson, Frank Beane, Jan Gilley, Jim Ebbert, Kate and Dean Jackson, Leamon Scott, Mike Moore, Scott Chrysler and Susan Fockler.
Kids 2 Kids Summer Sunday School
St. Thomas' Parish will be offering a special summer Sunday School program for nine weeks in July and August during the 9:30 service. The series is entitled "Kids 2 Kids" and its focus is on children helping other children. Each week will have its own theme, children ill learn through scripture readings and arts and crafts. The Sundays will be taught by a wonderful group of volunteers. The sessions will meet from 9:15 to 10:15 am on the following dates:
July 3: Who is my neighbor?, Instructor: Anna Black (Luke 10:25-37)
July 10: Music, Instructor: Bonnie Achterhof (Psalm 35:28; I Chronicles 25:2-7)
July 17: Prayer, Rev. Abby Pettee, Bill and Susan Freeman (Psalm 23)
July 24: The Environment, Instructor: Victoria Bucklin (Genesis 1:1-16; Canticle 12)
July 31: The Heifer Project Instructor: Catherine Kitt (John 21:15-17)
August 7: Refugees, Instructor: Alison McKellar (Matthew 25:34-46, Mark 10:13-36)
August 14: Food, Instructor: Rev. Abby Pettee (Matthew 14:13-21; Mark 5:30-44, Luke 9:10-13)
August 21: Water, Instructor: Sue Foltz (John 13:1-17)
August 28: The Heifer Project, Instructor: Catherine Kitt (John 21:15-17)
Pre-registration is requested. Please call the Parish Office at 236-3680
Nursery and Child Care offered every Sunday for children 5 and under
---
The Rev. Suzanne Colburn called as Transitional Priest in Charge
The Discernment Committee has issued its Parish Survey which will help inform its work in recommending the next Rector of St. Thomas' Church. Cottage meetings will be held in May. See the schedule.

We offer several opportunities for worship.
Sundays
7:30 am: Holy Eucharist, Rite I
9:30 am: Holy Eucharist with choir, Rite II
Nursery and child care available
Coffee Hour follows
5:00 pm: Centering Prayer meeting
Wednesdays
9:30 am: Holy Eucharist and Healing Service
Coffee Hour and Bible Study follows
View a panoramic view of our church
View a panoramic view of our chapel
St. Thomas' Episcopal Church
33 Chestnut Street
PO Box 631
Camden, Maine 04843
(207) 236-3680
stthoscamden@roadrunner.com