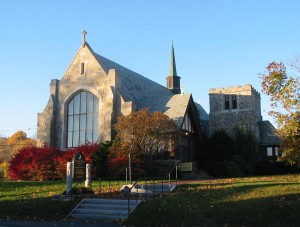 Come worship, celebrate, and share with us. Families, couples, or singles, we welcome you to our community of faith. Our life in the spirit is one in which we all seek to discern God's will for us and for others. It is in the power of a group that "when two or more are gathered together in my name", the holiness of the Lord may be felt. We invite you to share that power with us. Whether in school, at college, working, or retired, familiar with the Episcopal church or not, we open our doors to you, as we celebrate the Eucharist and share our services and common life together. Find out more about St. Thomas'.

---
Services Cancelled — Sunday, January 20th
Dear Parishioners,
I am cancelling both services at St. Thomas for this Sunday, January 20. The following is a notice from the National Weather Service about the Camden area for Sunday:
A significant storm will move northeast on Saturday…by Sunday, this system…will result in heavy snow across the region with potentially widespread areas with double digit snowfall. Along the coastline, a brief period of sleet or freezing rain may fall during the day Sunday.
Needless to say, driving conditions will be treacherous starting Saturday night and especially Sunday when snowfall rates will increase.
I don't believe that God wants us in church more than God wants our safety. Actually, I'll go further and say that perhaps God would prefer we rest, take time for quiet or family prayer time, and enjoy the beauty of the storm without worrying about going out in it. Snow is quiet and peaceful. It's truly a part of God's beautiful creation if we let ourselves stop and enjoy it.
Tomorrow should be a clear day if you need to stock up on things. Rosalee has graciously agreed to walk across the street on Sunday and meet anyone who might miss this message or my call to those without internet. And, of course, text or call me on my cell if you have an emergency. (207.231.2411) Sandy will meet with us about the USCG next Sunday between services at 9:00. May I suggest that all who are upset to miss a Sunday Eucharist join us on Wednesday at 9:30am for a Eucharist with healing. If we have enough come, we'll do it in the main church.
Click here for a service you might want to try on Sunday morning, along with my Sermon — no pressure to read it. Perhaps this is the perfect time to briefly rest in God's love. Listen for what you might hear. Take advantage of a new way of being with God this weekend. And let your mind wonder. Not wander—wonder. I'd be interested in hearing your impressions of what you encounter.
And the blessing of God: Father, Son and Holy Spirit be upon you and remain with you always.
Lisa+
---
 God's Abundance…Our Response
What will be your response to the abundance God has provided to you?
Our 2019 Stewardship Campaign continues.
---
We offer several opportunities for worship:
Sundays
7:30 am: Holy Eucharist, Rite I
Coffee Hour follows on first Sunday of the month
10:00 am: Holy Eucharist with choir, Rite II and Enriching our Worship
Child care available
Coffee Hour follows
5:15 pm: Centering Prayer
Wednesdays
9:30 am: Holy Eucharist and Healing Service
Coffee Hour and Bible Study follow
View a panoramic view of our church
View a panoramic view of our chapel
St. Thomas' Episcopal Church
33 Chestnut Street
PO Box 631
Camden, Maine 04843
(207) 236-3680
admin@stthomascamdenme.org