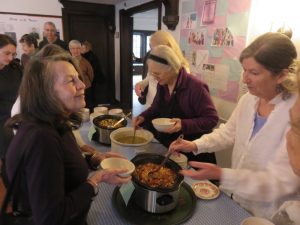 2019 marks the 12th year that St. Thomas' Episcopal Church, 33 Chestnut Street, Camden, Maine, will offer NOON Music in Lent, a free program of one-half hour of music in the church, starting at 12 noon, followed by a free lunch of homemade soup, bread and fruit in the Parish Hall. The series' musicians donate their time and talent: this is an enormous gift of planning programs, finding the music and then rehearsing it. Thank you!  We started out small, with perhaps 20 folks in the church for the music, followed by about 14-16 folks partaking of the soup, bread and fruit lunch in the Sun Room.  Over the years attendance has grown to anywhere from 30-50 folks in the church for the music and almost as many now coming to the parish hall for lunch since we have long outgrown the Sun Room!  Many folks come year after year, and they have told me they enjoy this hour of music, lunch and fellowship on a Friday at midday. About half are from the community: this is wonderful!
Schedule
March 8
Howard Walen, Organ
March 15
Kathryn DerMarderosian, Voice
March 22
Kathleen Christie, Voice
March 29
Nancy Riesgo, Voice
Michelle Terry, Hammered Dulcimer
Amy Kercsmar, Harp
April 5
Suzanne Scott and Jane Schroeder
Piano for Four Hands
April 12
Dean Jorgensen, Bass
Ed Shindle, Tenor
Jane Schroeder, Piano
Free Will Offerings will be sent to the Camden Area Christian Food Pantry.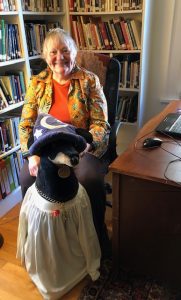 Jane Schroeder, Minister of Music at St. Thomas' Episcopal Church, started NOON Music in Lent in 2007 as a way of providing Sabbath time, a pause, a time for reflection at Noon on the six Fridays in Lent. The timing is intentional: to remember and reflect on the noon hour on Good Friday.  Each year, volunteers sign up as soup makers, bread bakers, fruit providers, servers and cleaner-uppers for the lunch and fellowship following each program. Thank you! In the early year's the performers chose which organization should receive the free-will offering. Some years all the free-will offerings were designated for specific responses: e.g., to Episcopal Relief and Development for distribution in Haiti following the earthquakes; to Help Heat Homes(home fuel assistance) in a particularly cold winter; to the Camden Area Christian Food Pantry in these tough economic times.