Welcome Back to In Church Worship!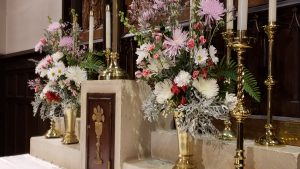 It is wonderful to see all of you again.  It is certainly freeing to be able to choose to sit anywhere, and unmasking certainly makes us all more recognizable.  We are back to communion in "one kind" (bread only)  at the altar, and our choir has begun to lead us in song once more.
Please remember that not all parishioners are vaccinated, particularly our children and those with medical issues who are not yet cleared to receive one. Loving our neighbor means respecting their health and remembering appropriate behaviors to keep everyone safe.
For the safety of all our worshippers, masks are mandatory at all times for those who are not yet vaccinated.