Information, What's Happening, Youth
Play, Pray, Connect Live! for Maine Youth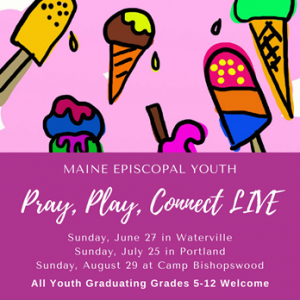 All youth completing 5th to 12th grades are invited to join us to Play, Pray, Connect LIVE! Youth will play fun games, work on an outreach project, connect with one another, and gather around good ice cream and good worship. Three Sunday dates and locations available. Take part in one, two or all three!
July 25 1:00-4:00 pm St. Luke's Cathedral, Portland
August 29 1:00-4:00 pm Camp Bishopswood, Hope*
We can't wait to meet outdoors LIVE and IN PERSON! Click here to register.
Families who register will be provided with a list of fun things to do in the area while you wait. We take your child's safety very seriously, and will be in communication about safety precautions during these events. Questions? Contact Rev. Cn. Sara D'Angio White
*This final summer youth event is a part of diocese-wide Summer Finale.