In-Person Worship News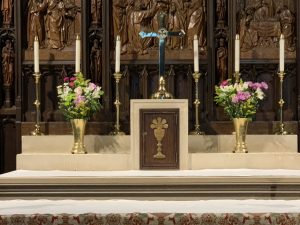 Our Bishop has sent out a Regathering Guide for all churches as we begin to make plans to begin in-person services, which the Task Force and Vestry are perusing.  Some directives:
Comply with State guidelines and executive orders. Implement physical distancing.
This means that we can have up to 50 people inside—or however many people fit inside while maintaining 6 foot distancing.  For us that means we can accommodate 26- about 35 depending on the family configurations we have on a Sunday. Since this is a very small amount of people, we will be taking reservations for all services. We're not sure how that will look, so we'll let you know when we figure that out.
Require Face coverings.
We will have extra masks for those who do not come with them.
Record Attendance (for contact tracing purposes)
At the Eucharist, use consecrated bread only, no wine
Do not re-institute coffee hour at this time. Post service gatherings should not happen.
We're hoping that as it slowly warms up, we can have coffee hour outdoors, both in the front and back.
That's the scoop for this week. Check back next week!