Come, Pray: The Prayer I Need this Day
Are You Looking for a Special Lenten Program This Year? Here's a Great One: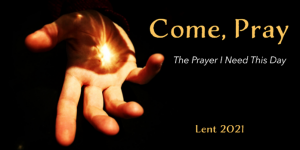 Come, Pray: The Prayer I Need This Day
After the last year in which churches around the world have been closed and congregations scattered, the SSJE Brothers invite you to "Come, Pray." Join us in receiving the daily gift of prayer – at home or wherever you find yourself. Across the weeks of Lent, listen in as Brothers discuss the rich and varied ways we pray, together in church and in our personal prayer. Then join us for worship, exploring a rich array of live-streamed services, culminating in the glories of Holy Week. "Come, pray in me the prayer I need this day."
The series is centered on a weekly 20-minute video and invites participants to explore and experience diverse prayer practices alongside the Brothers through joining our regular, live-streamed worship, special services, and online teachings.
To sign up for the weekly email: SSJE.org/subscribe and select "Monastic Wisdom for everyday living". (Please note: if you are already subscribed to the Brothers email, you do not need to re-subscribe)