As called by Jesus Christ,
we at St. Thomas' Church will:
worship God reverently;
grow in love of Him and our neighbor;
and bring others to accept Christ as Savior.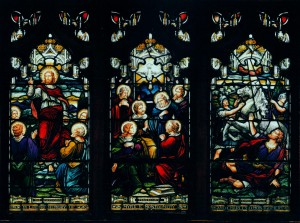 St. Thomas' Parish was organized in Camden on October 1, 1855. For the next fifteen years the parish worshiped in the former Universalist meeting house on Mountain St. After 1884 it began to grow in size and prosperity. In 1924 St. Thomas' moved to its current building, to which the tower and chapel were added in 1930. This expansion was supported by the influx of summer people in the early part of the century, and the church today remains a mix of summer residents and the local people, along with an increasing number of those who have retired to the area, bringing with them a variety of church histories and preferences.
Although in its early history the parish and its rectors would have described themselves as "broad church", for a short time, 1975-1995, the parish moved toward an Anglo-Catholic liturgy. Now the parish draws on both traditions, using both Rite I and Rite II in its services, and drawing traditional and contemporary sources for its worship and music, blending the best of the past and present. A new organ installed in 1992 and the enthusiasm of the parish led to the construction of a new educational wing in 2007 and new opportunities for worship to parishioners and the community.
Visit the website of the Episcopal Church.